Interior French drain

Experts in installation and replacement in any season!
Your drain is clogged or obsolete and you need to replace it?
With an interior French drain, prevent water infiltration and protect your building, even in winter!
Indispensable to keep your home dry, the interior French drain ensures continuous water tightness of your building, while preventing water from seeping in and causing humidity and damage.
An increasingly popular solution, the installation of an interior French drain is less costly and just as effective as an exterior installation!
It can be installed in any season and can protect your foundation if you have limited space around your home!
Request a free estimate!
Does your French drain seem don't work anymore?
Here are the 5 warning signs not to be missed!
The appearance of cracks on your foundation walls
Presence of humidity exceeding 60% in the basement
Warping of basement floors
Visible efflorescence at the base of foundation walls
Mould growth that can cause respiratory problems

Do you have limited space around your foundation?
You think that the season does not allow French drain work?
Opt for the interior French drain with SOS Sous-sol!
Request a free estimate!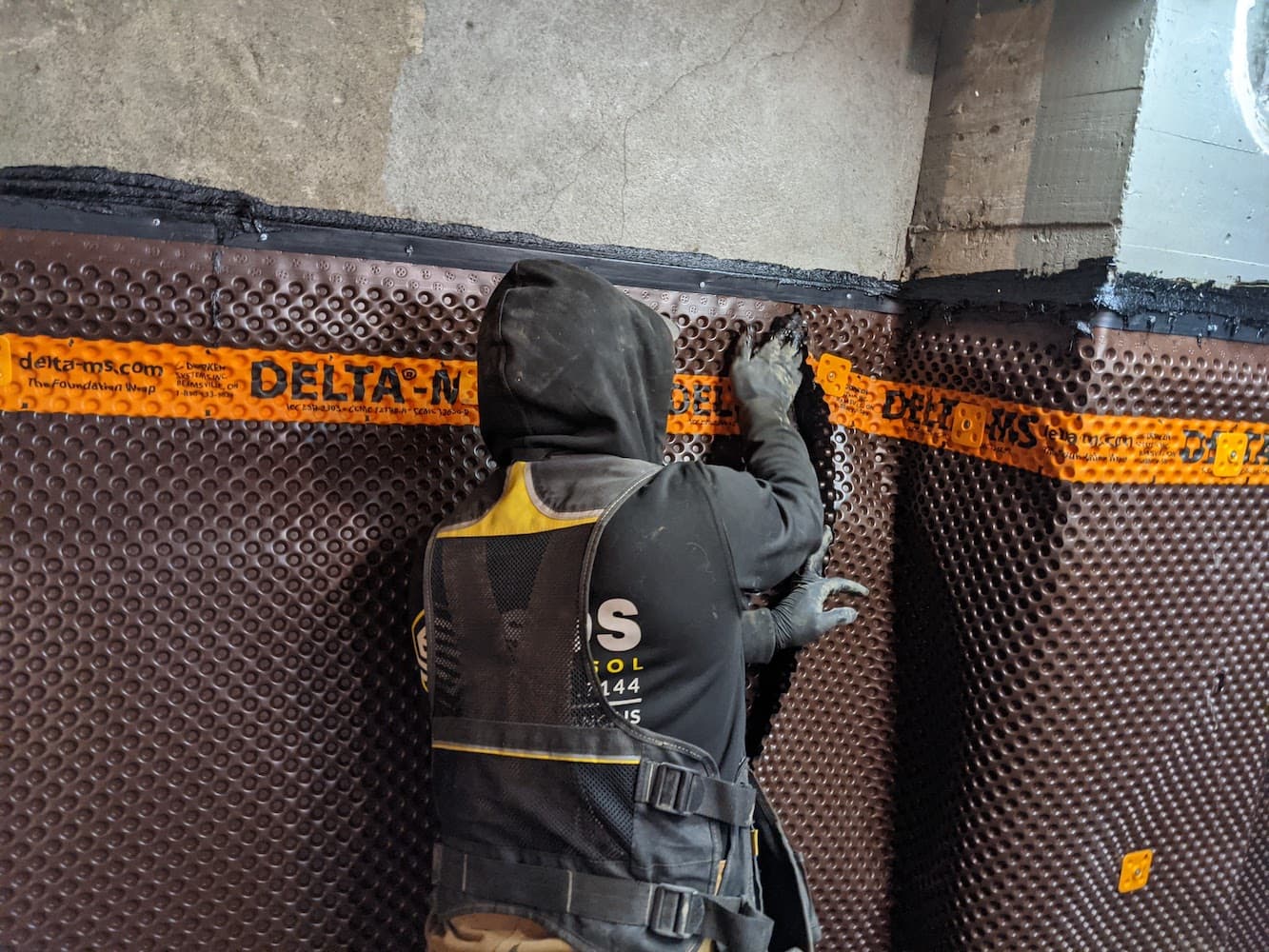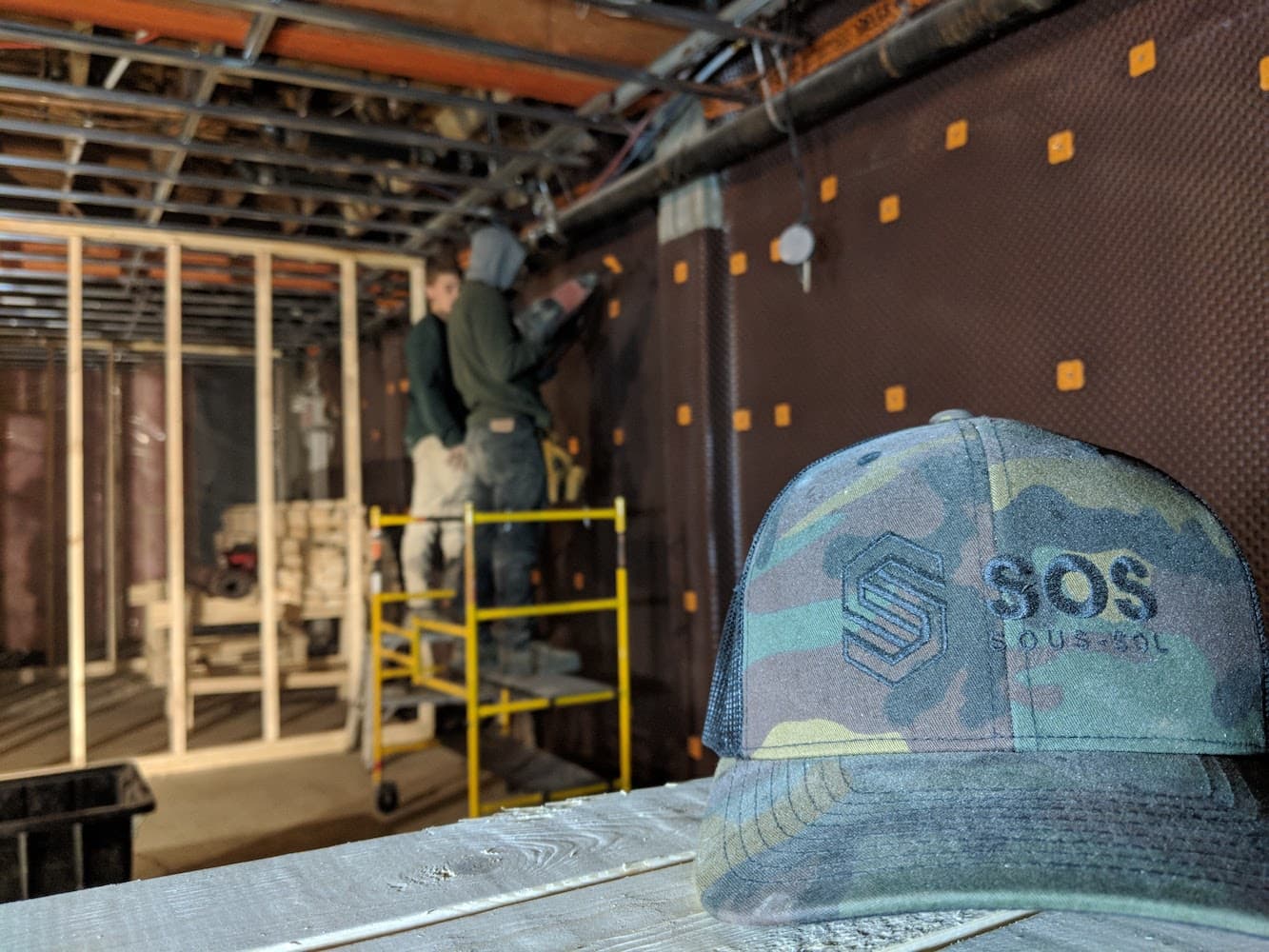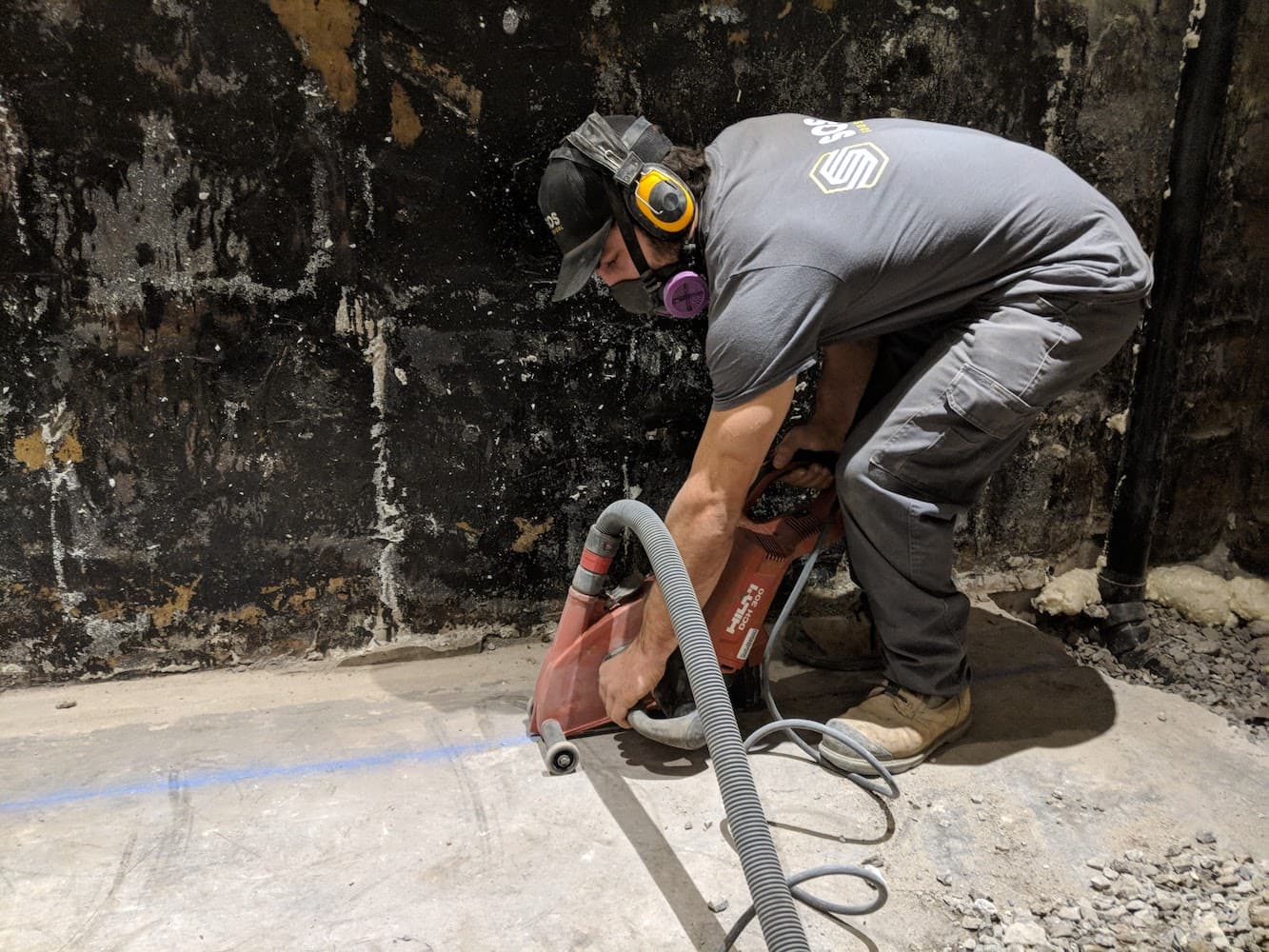 An interior French drain,
a less costly solution available 12 months a year!
Suited to the Quebec climate
The interior French drain can be installed 12 months a year, even on the coldest and snowiest of days.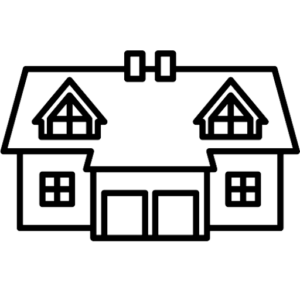 Suited to tighter spaces
The interior French drain is a perfect solution if you don't have enough exterior clearance around your building.

Hard to access foundations
The interior French drain is the perfect solution if you have balconies, decks or exterior landscaping that you don't want to demolish.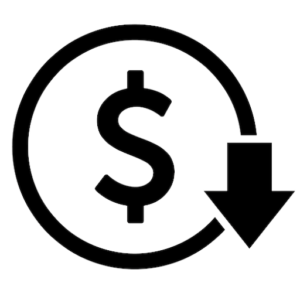 Less costly
The entire surrounding area does not need to be excavated, allowing for savings on excavation costs.
At the same time as your basement renovations
Follow the example of numerous savvy construction contractors and seize the opportunity to install an interior French drain.
Efficient installation in 8 steps
For all your interior French drain work, SOS Sous-sol protects your home from dust and restores your basement to its original state.
1 – We seal the basement off from adjoining rooms, avoiding dust propagation.
2 – We cut and break the concrete to dig a narrow trench (about 16 inches wide) directly in the concrete slab, along the foundation walls in your basement, down to the base of your footing.
3 – We lay a geotextile membrane at the bottom of the trench.
4 – We install a superior quality French drain.
5 – We connect the interior French drain to the sump pump or other equipment, depending upon the standards set by your municipality.
6 – We repair cracks and holes from the inside, by injection system or repair with waterproof mortar by crystallization.
7 – We install a dimpled membrane on the foundation wall, allowing for airflow and redirecting condensation and humidity to the drain.
8 – The drain pipes are then covered with clean crushed stone to allow for optimal drainage.
9 – A layer of concrete is applied by our experts, with a hand-trowel finish.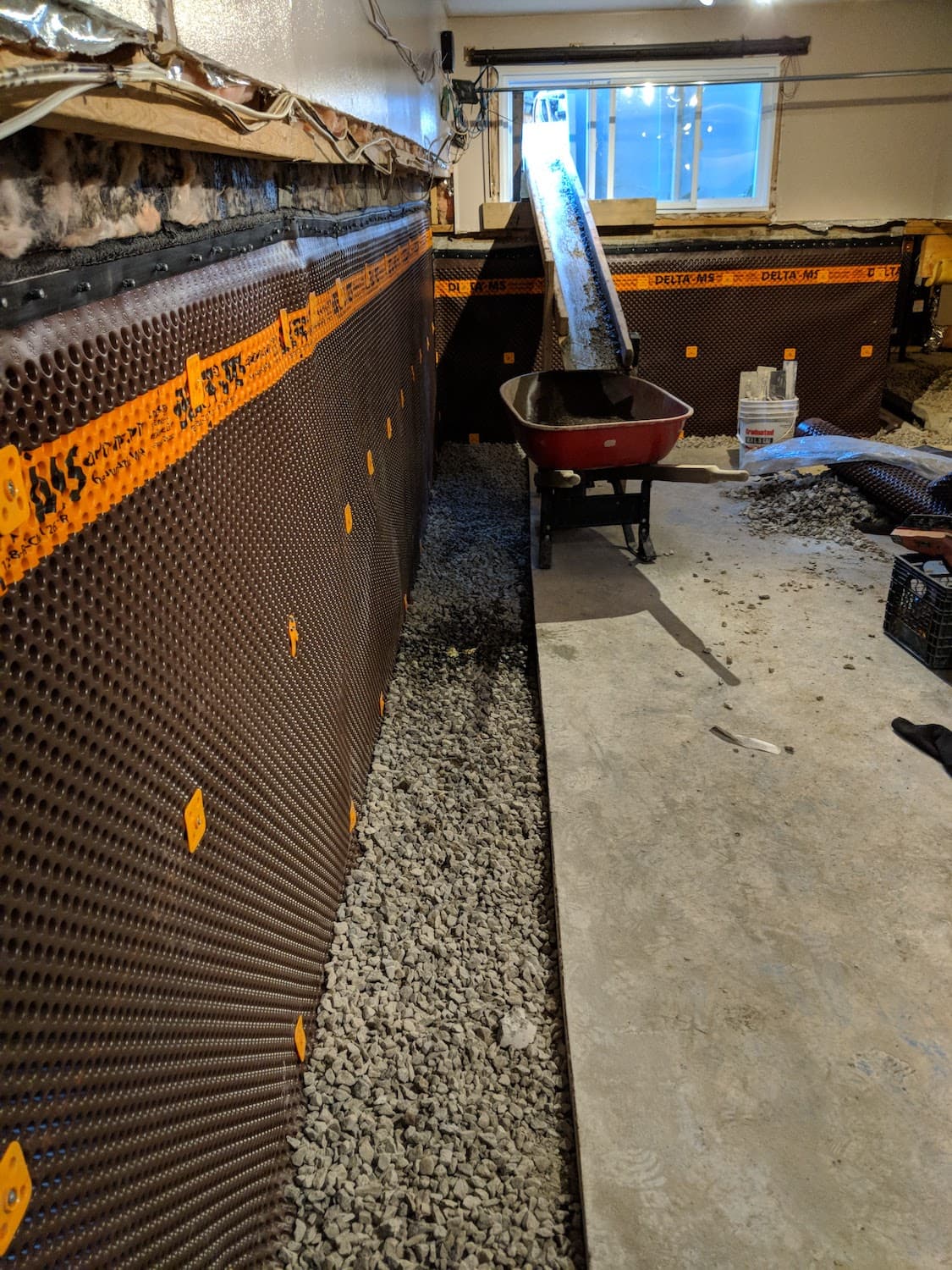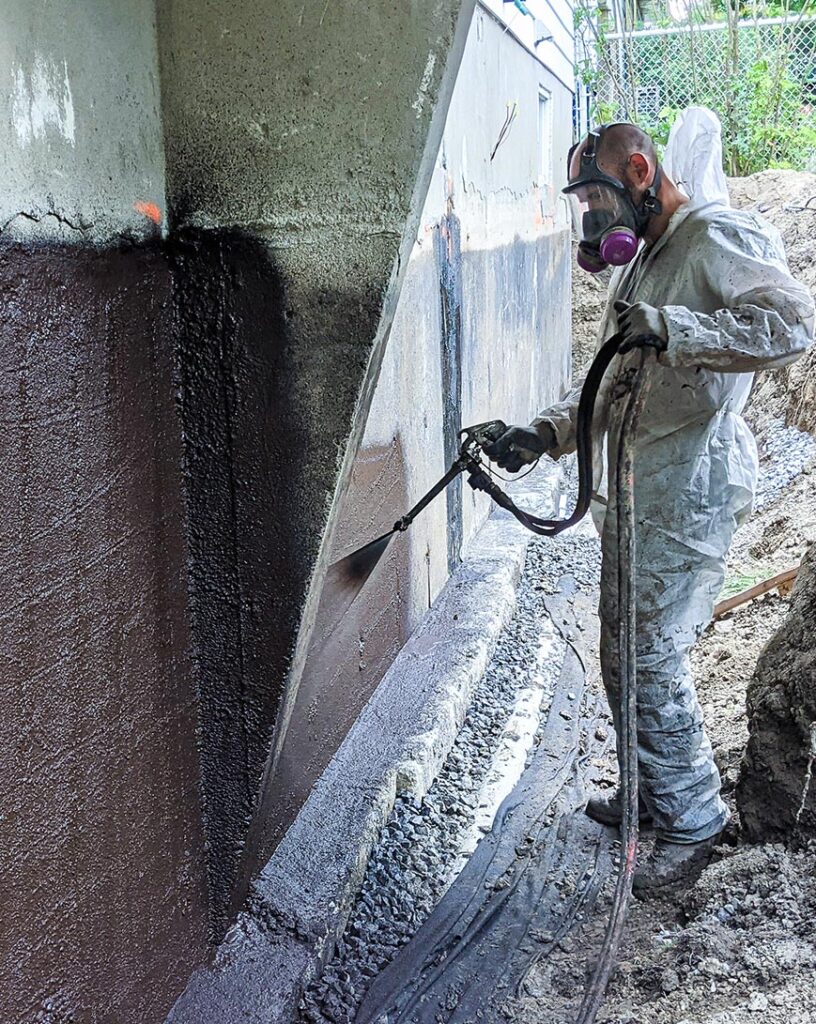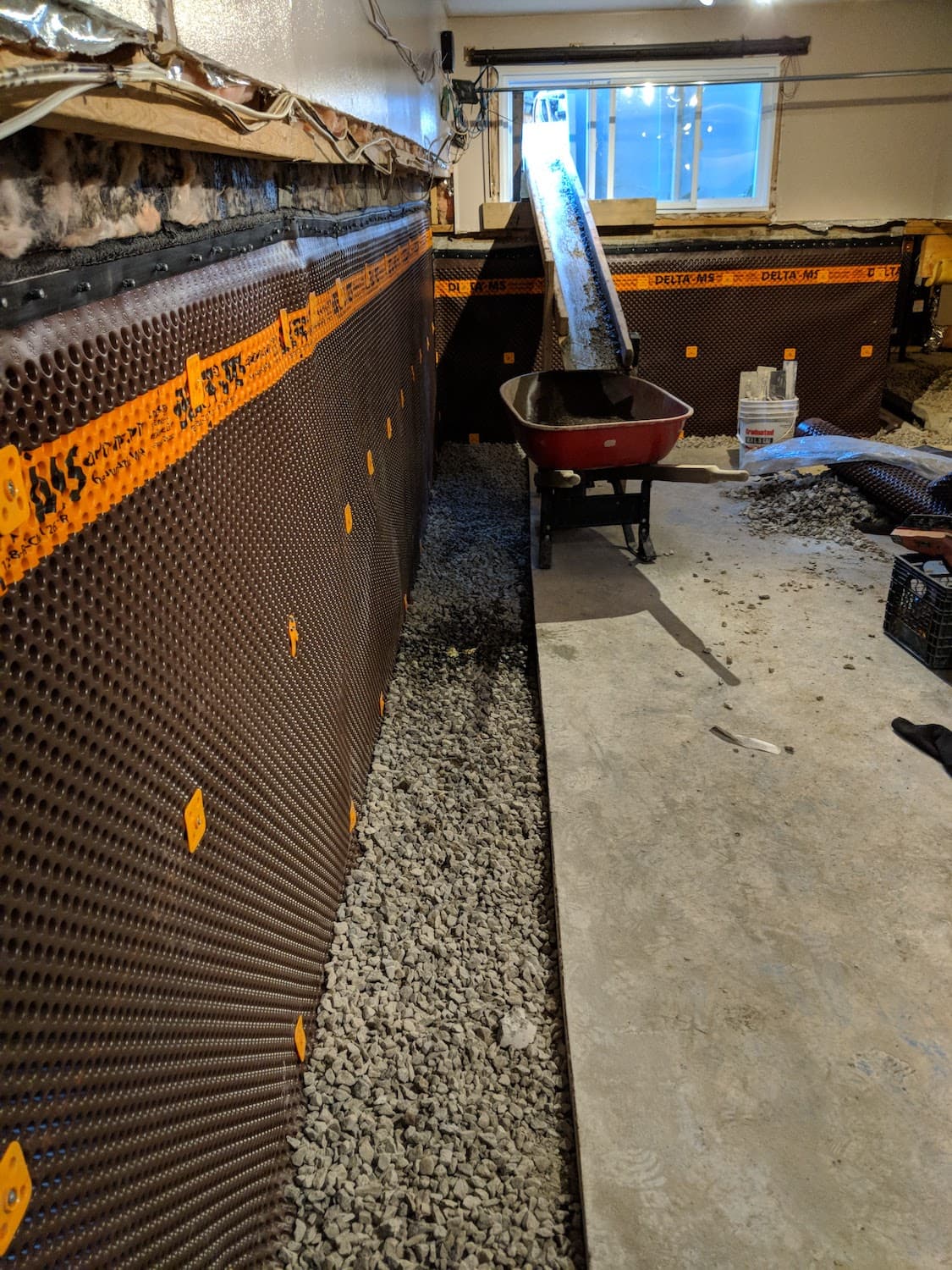 Why call upon experts for your interior French drain?
The installation or replacement of an interior French drain requires the expertise of industry professionals.
The SOS Sous-sol team will be able to examine your foundations and environment in order to propose the best solution for your French drain system.
With state-of-the-art equipment and recognized skills in the field, SOS Sous-sol is the company you need to effectively protect your foundations and basement against water infiltration and humidity.
Moreover, at the end of the work, your basement will be restored to its original state!
Free estimate!
Ask for a free quote!
Would you like to get a quote for your project? Tell us about your future work in the form below and we will contact you as soon as possible!