Prevent water infiltration problems by having your foundation French drain inspected.
Do you think you have a French drain problem? Is your drain blocked or damaged?
You may have problems with water infiltration in your basement.

Prevent water infiltration by having your drain inspected. A French drain is a four inch diameter pipe that surrounds the foundation of a house. It is used to intercept water from the ground and evacuate it before it seeps into your foundation. Its lifespan is about 40 years. It is important to ensure that your French drain is functional for its entire lifespan. A drain that is damaged or in poor condition can degrade your foundation and cause cracks in the concrete.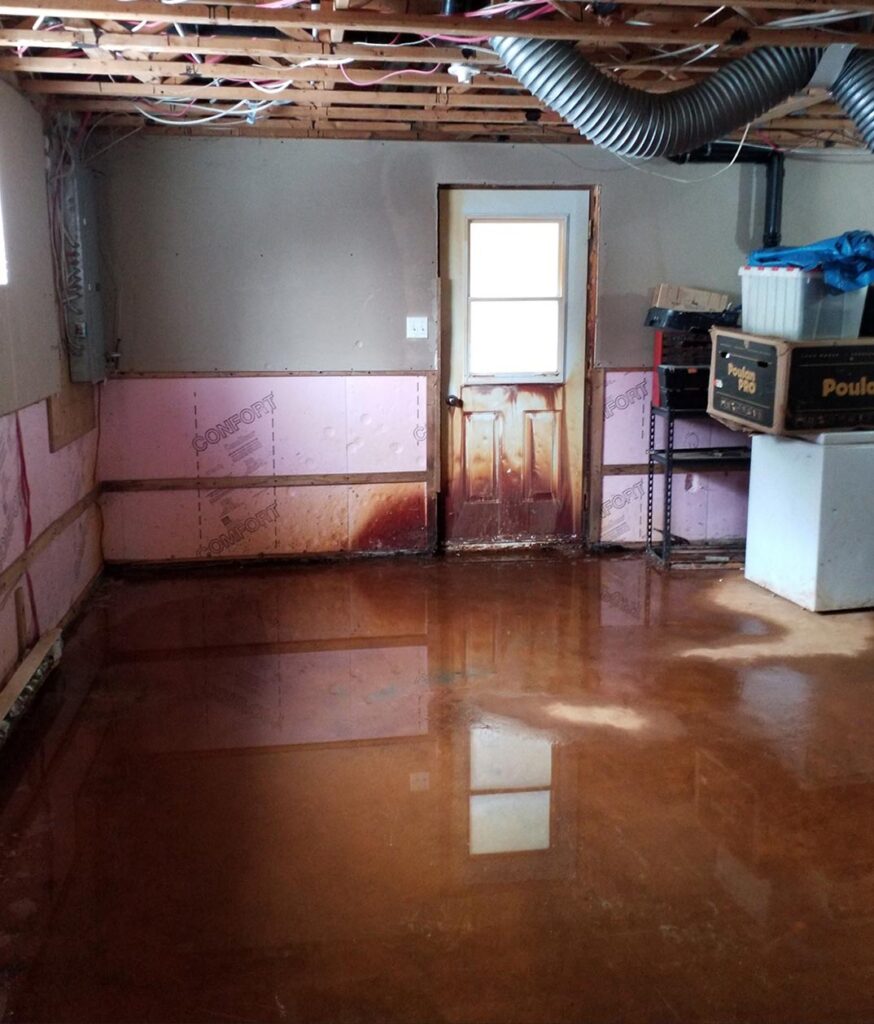 5 signs indicating that a French drain is damaged
Efflorescence at the bottom of your foundation walls
Basement humidity above 60%
Swelling of basement floors
Water leaking into the basement
Respiratory problems due to proliferation of mould
If you see one or more of these signs, do not hesitate to contact us. Our team is here to help you.

Request a free quote
What a French drain does
Soils generally contain a lot of water from rain and thaw. In some cases, the hydrostatic pressure exerted causes water to penetrate the foundation. An effective drainage system helps prevent structural problems, mould or the worst case scenario, collapse.

French drain inspection
Our specialized contractors offer French drain inspection and replacement services for individuals and contractors.
A camera inspection will first determine if the French drain is in good condition and if it needs to be changed partially or completely.

French drain cleaning and replacement
Sometimes a simple cleaning of the conduits or partial replacement of the drain is required. At other times, complete replacement of the French drain proves necessary. After a camera inspection, our team will be able to tell you which solution is best for you.

How do we install the French drain?
Comment procédons-nous à l'installation du drain français ?
A trench is excavated securely around the foundations, until reaching the optimal depth, calculated by our specialized technician. (The depth may vary depending on the design of the building. You must not rely solely on the footing level. Our technician will take several different measurements to ensure that the drain is positioned perfectly.)
A geotextile membrane is placed at the bottom of the trench.
The high quality drain conduit is installed and a slope will be created, if the design of the building allows for this. (The slope will allow any sediment that enters the drain to drain away more effectively. However, with our drain design, considerably better than industry standards, very little sediment will enter.)
The drain is then connected to a sump pump or other system, depending on the standards for your municipality. (We can take care of the connection with our plumber, since we are licensed as a general contractor.)
Membranes are installed on the foundation.
The pipes are covered with 12 inches of clean crushed stone to ensure optimal drainage. (Code standards call for 6 inches as a minimum)
A geotextile membrane is then installed over the aggregate to prevent the leaching of sediment and the trench is backfilled.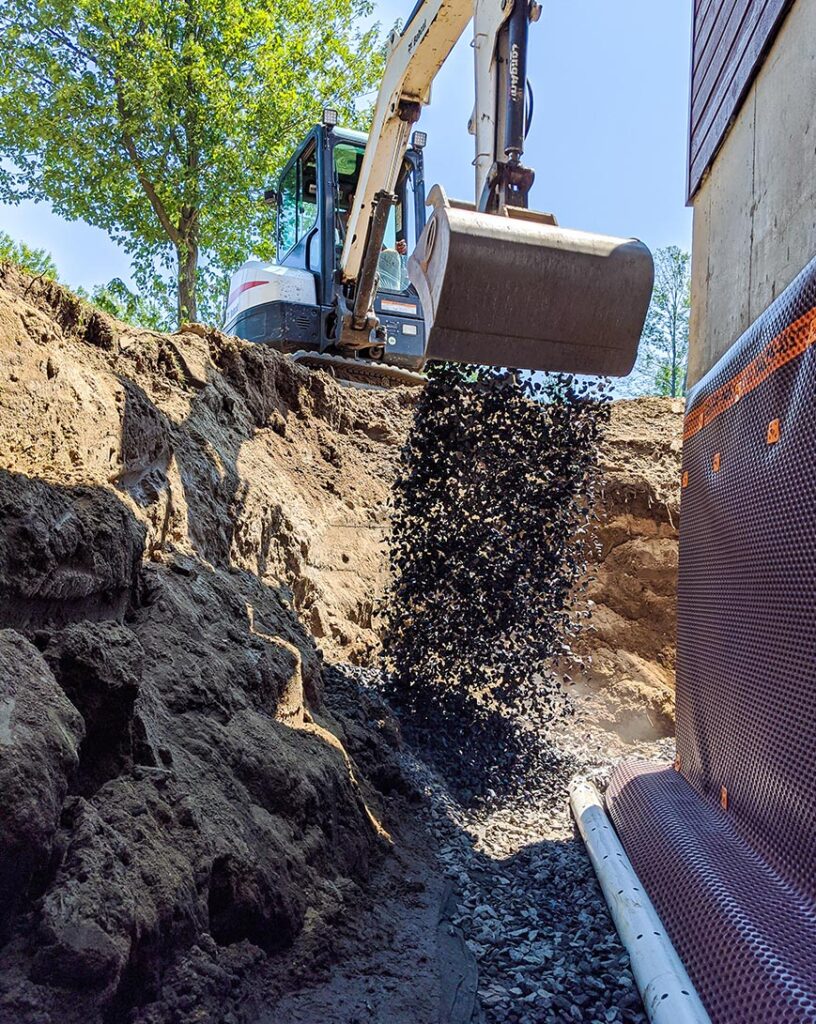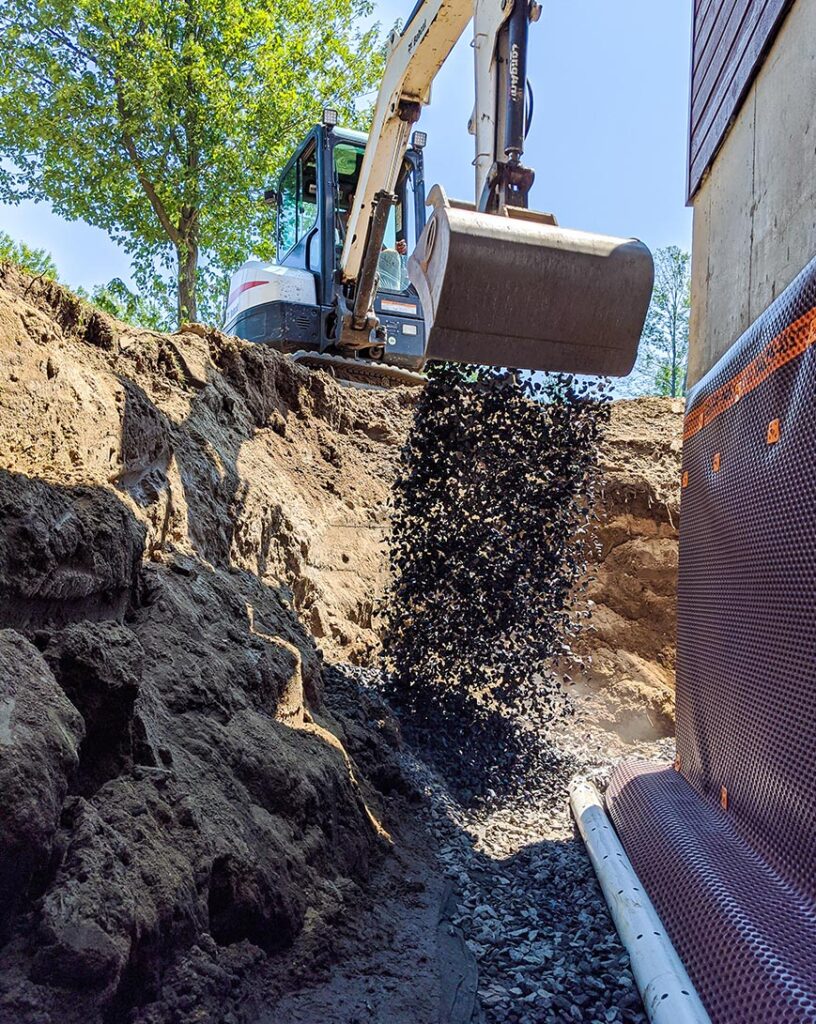 Ask for a free quote!
Would you like to get a quote for your project? Tell us about your future work in the form below and we will contact you as soon as possible!